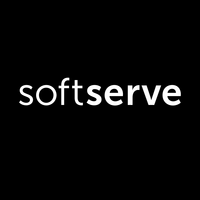 https://getonbrd-prod.s3.amazonaws.com/uploads/users/logo/12856/softserve_logo_1768___1768_black.png
Middle Graphics Software Engineer
en Softserve
Empleo finalizado - No se reciben más postulantes
Seguir
Sigue a Softserve en Get on Board y te notificaremos cuando publique nuevos empleos (y podrás encontrar muchos otros empleos de tu interés).
¿Te interesa trabajar en Softserve? Mira sus empleos:
WE ARE
SoftServe is a global digital solutions company with headquarters in Austin, Texas, founded in Ukraine. 13,000+ associates are currently working on 1,100+ projects with clients in the USA, Europe, and APAC region. We are about people who create bold things, who make a difference, who have fun, and who love their work. In January 2022, we started our operations in Latin America.
Our client is a leading company in the US blue-collar workforce market. They help thousands of people to find work, and thousands of companies to fulfill their vacancies with the best workers. The project is growing rapidly and in order to respond to new challenges, we are looking for full-stack engineers who will join the team and will participate in the development of one of the enterprise applications. You'll be joining a distributed team of professionals who love to deliver the best experience to users.
YOU MUST
Developing, implementing, and maintaining platform graphics runtime
Triaging and fixing QA reported functional, stability, and performance bugs in the graphics stack of other engineers developing applications and samples, to showcase proof of work
YOU ARE
A strong Software Engineer with the following expertise
2+ years of software development experience with C++
2+ years of experience implementing and optimizing graphics algorithms with game engines such as Unity and Unreal using DirectX, OpenGL, or Vulkan
Hands-on experience with design and implementation of modern 3D graphics applications using modern rendering APIs, like DirectX, OpenGL, and Vulkan
Proficient with writing vertex, fragment, and compute shaders using shading languages such as Cg, HLSL, GLSL, and SPIR-V
Great ability to write efficient, clean, maintainable, and portable code
Nice to have
Experience with GPU optimization for increased frame rate and reduced latency
Background of development for augmented reality (AR), virtual reality (VR), or other forms of head-mounted displays (HMDs)
Detailed knowledge of GPU Architecture and design
TOGETHER WE WILL
Contribute to designing and building new products in the field of MR/AR/VR/3D
Shape the quality of AV/VR software products
Accomplish great things
Get a great deal of learning and development opportunities along with our structured career path
Mascotas permitidas
Las mascotas son bienvenidas en la oficina.
Seguro de vida
Softserve paga un seguro de vida para sus empleados.
Ausencia por enfermedad pagada
Se ofrece cobertura por días no trabajados a causa de enfermedad (pueden aplicar límites).
Estacionamiento de bicicletas
Hay un lugar privado para estacionar las bicicletas.
Biblioteca digital
Acceso a libros y/o suscripciones digitales.
Cobertura de salud
Softserve paga o copaga cobertura de salud adicional a lo legal.
Seguro dental
Softserve paga o copaga un seguro dental.
Computadora
Softserve proporciona una computadora para tu trabajo.
Bono de educación
Softserve cubre algunos gastos de educación relacionados con el puesto.
Vestimenta informal
Softserve no exige ningún código de vestimenta.
Vacaciones extra
Softserve otorga vacaciones pagadas adicionales al mínimo legal.
Día de cumpleaños libre
El día de tu cumpleaños es canjeable por un día completo de vacaciones.
Política de trabajo remoto
Híbrido
El trabajo se desempeña algunos unos días de forma remota y otros en la oficina.